Sulawesi, the name conjures up romantic images of seafaring priates and Torajan princesses. Yet Sulawesi formerly known as Celebes, offers a variety of cultural riches extending far beyond its colorful past. Contained within its unusual shape lie volcanic mountains lush tropical forests, brilliant green rice terraces, and deep dark lakers, all bordered by pristine beaches and sparkling coral reefs. Ancient customs and practices of its multiple ethnic groups are blended into the daily lives.


| | |
| --- | --- |
| South Sulawesi, from its fishing villages to its mountainous landscapes, this geographically and culturally divers area is the most fertile in Sulawesi, and has the densest population outside Java and Bali. Three of its four major tribal groups, the Buginese, Makassarese and the Mandarese have centuries-old reputations for seafaring fearlessness and skill, while the fourth, the Torajan, has perhaps the best known cultural rituals in Sulawesi. | |

Central Sulawesi, this landscape of striking contrasts with its mountainous rainforests, and dry valleys provides many surprises. Ninety percent of Central Sulawesi's population dwells in coastal areas, leaving the inland areas largely uninhabited, and full of rewards for the adventurous. With its striking beauty and not less than twelve ethnic groups speaking around twenty-four different languages, Central Sulawesi represents the ultimate Indonesian cultural experience in a microcosm.

North Sulawesi, English naturalist, Alfred Wallace aptly proclaimed on this first visit to North Sulawesi in 1895 that the grandeur of its beauty surpassed his already-high expectations. Indeed, with the juxtaposition of its majestic volcanic peaks and unsurpassed coral reefs and beaches, North Sulawesi is one of Indonesia's most spectacularly beautiful areas.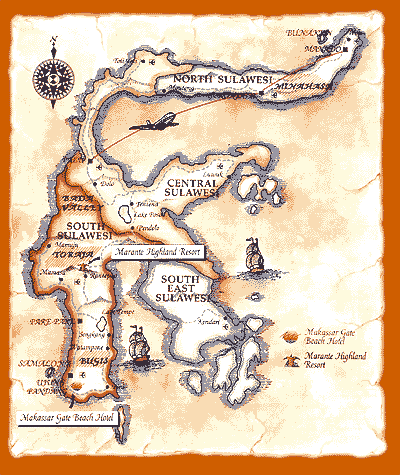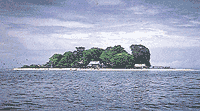 Makassar, is known as much for its colorful past as for its cosmopolitan present. Formerly called Ujung Pandang this major port was for 500 years a collecting point for the exotic goods of the East and the getaway to East Indonesia's famed "Spice Islands" Today, Makassar with the rich etnic diversity common to a coastel metropolis, has the feel of a great Asian city. Wooden prahus still proudly grace the seafront, giving the city an oldworld charm. Food stalls, offering the dazzling and delicious variety of seafood for which the city is famous, line the waterfont every evening for more than a kilometer. Day tripls offer a wide variety. Explore magnificent coral reefs located just off the coast. Prehistroic caves to the north of the city feature 5,000 year old wall paintings. Or take a trip to the former colonial resort town of Malino in the mountains to the east and wander at leisure.


Lake Poso, Tentena, Pendolo, according to the legend Lake Poso is the pivot around which heaven and earth revolve. Indeed, located dead in the center of Sulawesi, the lake appears to be the force around which the pinwheel arms of Sulawesi turn. Rich in history and local legend, this area is fun to explore. Lake Poso, 37 kilometres long and 13 kilometres wide, offers rainforests, love and coffee plantations, and villages connected by lush green rice fields.



| | |
| --- | --- |
| Bira, for centuries the home of South Sulawesi's boat building. Bira still plays an important role in the sea-faring industry. Three harbors, two for prahus, and one for ferries, compliment excellent white sand beached with clear water for swimming. Daily ferries depart to Selayar Island, which was an historic trading center in the 14th century. Home of lovely beaches, it also boast a 2000 year old Vietnamese Dong Son drum. | |
Togian, located in the heart of the Tomini Gulf. Reachable from Ampana or Gorontalo. To get really off the beaten trek hop on one of the small boats running between Ampana and Gorontalo with stops on the way at the islands Bomba, wakai, Ketupat and Dolong The Togian Islands are also unusual in being surrounded by all major types of coral reef environments.



| | |
| --- | --- |
| Toraja, located in the ruggedly beautiful mountains approximately 230 kilometers north of Makassar, Tana Toraja is a land of contrasting sights, blue mountains next to vivid green rice fields, interspersed with distinctive sloped-roof houses Life here follows the familiar patterns of the past. Its most important and best-known event is the funeral, a complex and fascinating affair involving several days of ceremony. As a final rite Tau Tau effigies, are constructed and placed in ledges cut into limestone cliffs specifically to guard tombs chiseled into the rock behind them. | |
Sengkang, the capital of a former Bugis kingdom, this historic and bustling market town overlooking Lake Tempe retains its traditional character, as well as many old cultural traditions, silk weaving, colourful bugis weddings-celebrated, according to Ancient customs, dance, and a traditional orchestra.



| | |
| --- | --- |
| Mamasa, is a cool mountain resort, with numerous hot springs nearby. There are interesting walks among the rolling hills, rice terraces and villages. Mamasa is still very much the way it always was. A more rugged version of Toraja. | |
Palu, the city of Palu, a fast growing provincial capital located at the foot of Palu Bay, serves the perfect place from which to plan treks into Central Sulawesi. In the ancient and picturesque port city of Donggala, local weavers create kain Dongalla, an exquisite dark silk cloth, using the rare double-ikat method. The area also offers good swimming, fine diving and endless groves of clove trees.



| | |
| --- | --- |
| Manado, has a reputation for spectacular beauty. Three volcanoes tower over the city, and much of the surrounding area has been set aside for a nature reserve, including the crystal-clear waters of Bunaken Island, off the north coast of Manado. | |



indonesia, indonesie, indonesien, sulawesi, sulawesie, caraka, holiday, vacation, vakantie, ferien, asia, travelling, travel, trip, reizen, tour, journey, voyage, far east, tropical islands, hotel, beach, women, celebes, makassar, lake poso, bira, togian, toraja, sengkang, mamasa, palu, manado


M A K E R E S E R V A T I O N S & M A I L





Caraka Travelindo
Jl. Samalona No. 12
Makassar 90174
South Sulawesi - Indonesia
tel. +62 411 - 3618877
fax +62 411 - 3618889
e-mail trvlindo@indosat.net.id